The Client
Tevra Pets was founded by a passionate group of pet parents with decades of experience in developing, manufacturing and marketing pet care products. Tevra offers innovative, quality product solutions for pets and homes with results that exceed their customers expectations at an affordable price.
The Need
Tevra had a bit of a confusing online experience when it came to communicating their brands. They currently have 2 main product lines that offer a variety of pet products. However, on their website it was hard to differentiate what brand sold what, and where to buy those products. In addition it was hard to find the particular product you were looking for on their website. Tevra was ready for a re-organized and a re-freshed website.
The Solution
Skwintz was brought on by Alex Gates who had partnered with Tevra to get the website completed. It was decided early on that the mix of the brands on one website was a confusing experience and that instead three separate websites made more sense and gave each brand a better chance at capturing the right customers. The team also decided it was important for the sites to be relatively similar, indicating the relation, but also be able to stand on their own.
For the corporate site, the main goal was to highlight the brands under Tevra and establish credibility through content. We chose to highlight their "three truths" of their brand: vision, innovation, and quality. In addition, we featured multiple news articles on the homepage. Here the 3 latest company announcements, press releases and/or news articles would be featured.
We used visual elements from the logo to create a very customized brand feel for the site. This also made it feel more playful and fun. These custom graphics from site to site would help differentiate between the different brands quickly since we decided to use the same layout regardless of the brand.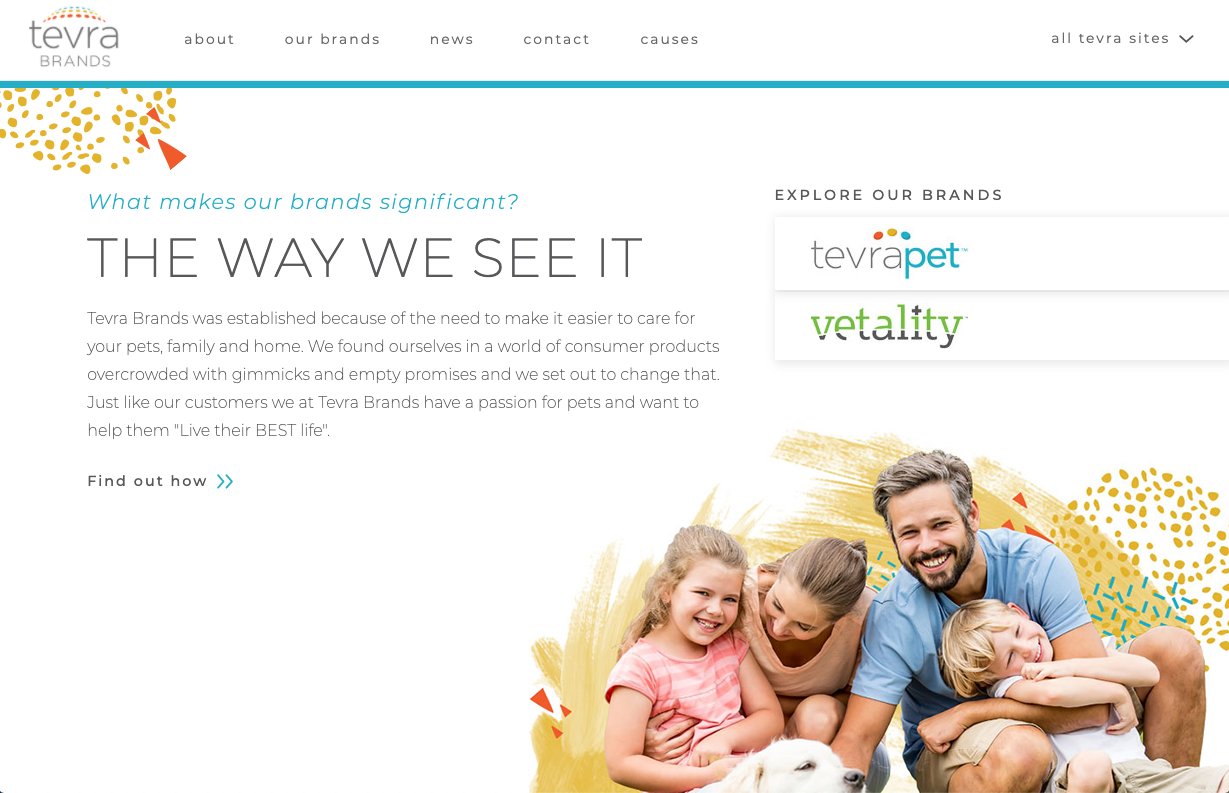 The Results
Skwintz delivered a design and static HTML files to Alex who then plugged it into WordPress. The three different designs help differentiate between the different brands and corporate identity of Tevra Brands. Users can more easily find the brand and product they are searching for.
The Team
Alex Gates
WordPress Development
Project Management